Your PM and EHR know Far, Far More than they are Telling You.
See Your Practice Differently
How much has your practice changed in the past year?  How much have your practice's reports changed in the past 20 years?  Stop relying on clunky, canned reports and start seeing your data and your practice come to life. 
Business Intelligence
for Medical Practices
Customized
Automated
Fast
With Aloha
Innovative Ideas to Make Your Practice Better
The Latest Podcast
Podcast: Play in new window | Download
Subscribe: RSS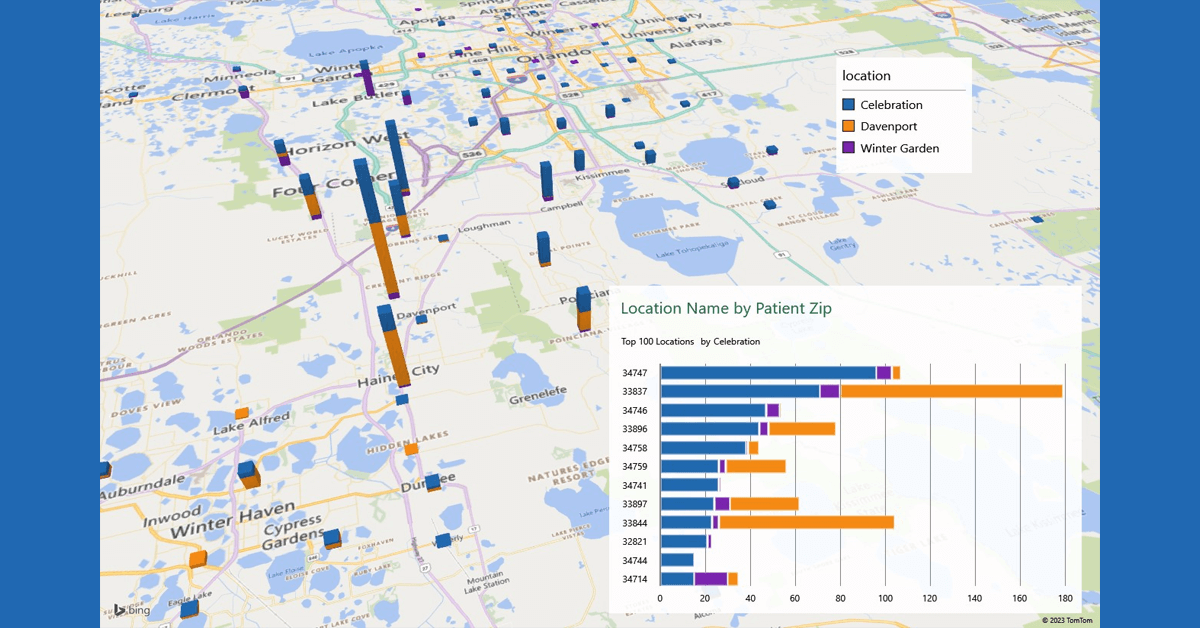 How long has it been since you really saw your practice data?
Would it help to visualize your medical practice data geographically?
Today's BIG Ideas podcast describes how a practice used Excel's 3D Maps feature to see the growth in patients at a new location.  Microsoft has not done much with 3D Maps since it was introduced years ago, but 3D Maps can be very helpful in seeing where your patients are coming from, where your referring physicians practice, or how your marketing efforts are progressing.  The maps are not super fancy graphic design masterpieces, but they are in Excel, making it easy to write formulas to analyze your data before mapping.  Listen for ideas on how you might get started using maps with your data.  Using 3D Maps is a very helpful way to see your practice in a new light.
Game-changing Business Intelligence
Put Nate to Work…
Automatically Email Critical Data
If you could have a one-page email of practice information delivered daily, what would be on that page?  If you could send a separate one-page email to your physicians weekly, what would you tell them?  Don't rely on team members to remember to run reports, push key practice metrics to them via email.  Send your physicians producitivity reports.  Help the call center fill unsold appointments.  Tell your front desk how they collected copayments yesterday.  Change your practice by changing the way you send data.
Discover Hidden Trends
Where is the next opportunity for your practice to find new patients, act on referral patterns, or capture lost revenue?  How does this month compare with last month and last year?  Why are charges increasing or payments decreasing?   See information your PM/EHR won't show you on canned reports, but will help you run your business.  Empower front line managers, clinical teams, the buisness office, and providers with current data and friendly tools to make better decisions.
Customize Practice Dashboards
Canned reports show too much of what you don't need and not nearly enough of the practice data you do need to see.  Build a dashboard focused exactly on your key performance indicators.  Track RVUs, no shows, collections, new patients, denials or any other metric that will make your practice successful. Build dashboards for each team that support practice objectives and the overall practice dashboard.
Drive Productivity and Performance
When performance is measured, performance improves.  Hold staff, payers, and providers accountable for results with automated tools.  Keep score in your practice, and put the score where everyone can see it.  Track provider wRVUs, lag days, patient wait times, resouce utilization, payments according to contract, advanced practioners, data entry, the number of patients checked in by staff, unsold appointments and much more.  Benchmark your perfomance against leading practices and against your practice history to see results.
One of MGMA's Most Popular Speakers
Invite Nate to Speak About…
Rethinking Metrics, Dashboards, and Appointments After COVID-19
How have your practice operations changed after COVID-19?  What are you doing differently, and what do you wish you were doing differently?  Are employees working from home as productive?  Will you improve patient scheduling?  Have you changed your dashboards to track different measures or different time periods?  Are patients and payers paying more slowly?  Is cash flow recovering?  Join an interactive discussion with practice managers facing similar problems and get ideas you can implement in your practice immediately. 
Seeing Past Tomorrow: Using Appointment Data to Thrive in the Future
Appointment data is about as close as a practice manager can come to seeing what next week and next month will look like. Join an interactive discussion on using appointment data to increase opportunities in your practice. We will discuss ways to measure patient access to your providers, to reduce no show appointments, and to maximize capacity of your most important practice resources. See how practices across America are using appointment data to identify and solve problems before patients arrive, to make staff more efficient, and to reduce the number of unsold patient appointments.
Business Intelligence for Payer Contracting
You have analyzed your contracts, negotiated with the payers, and set new rates.  Your job may look finished, but the fun is just starting!  Short of reviewing every EOB and ERA, how can you ensure that the new rates are loaded correctly and that procedures are paid appropriately?  What are medical practices nationwide doing to confirm that claims are being paid according to contract?  What about multiple procedure discounts, modifiers, different rates for different specialties, and other contracting nuances?  How can I prioritize appeals and track successful appeals?  Join us for an interactive discussion on applying Business Intelligence to payer contracting.
Measuring, Managing, Motivating, and Mastering: Patient Access in Medical Practices
What are the first words you and your patients would use to describe patient access in your practice? Complex? Satisfied? Frustrating? Time consuming? Patient-centered? Patient access is not just how long it takes for a patient to see a provider. It encompasses how hard it is for a patient to interact with your practice;the time a patient spends in the waiting room  and the ease a patient to communicates with your practice. Are you using the technology in your practice to maximize patient access? Join a collaborative conversation on ways to measure, manage, and master patient access in medical practices. We will analyze examples of data and actual reports from practices around the country and learn what successful practices measure, who sees the reports and how often they are reports distributed. Learn from peers in practices like yours from across the country in a unique presentation to designed to learn together.
Beating the Benchmarks: Better Results with Practice Operations Data
Where is the next game-changing opportunity for your practice?  Many practices have successfully focused on increasing revenues and cutting costs.  Those practices need a new strategy to continue to thrive in today's competitive medical practice environment.  Discover reports, processes, workflows, and techniques leading practices are using to meet and then exceed MGMA practice operations benchmarks.  This session will introduce approaches to tracking operational data to improve scheduling, decrease patient wait times, reduce no shows, and increase patient access.  MGMA's practice operations benchmarks include front-desk metrics like collecting copayments and patient balances at the time of service, billing and coding metrics, and much more.  What data should your practice be focusing on next?  How can you change your practice operations to beat the benchmarks?  Discover answers for your practice.  Join thought leaders and in-the-trenches administrators for this idea-generating session.
Better Dashboards, Better Decisions
If you could have one page of practice information emailed to you and your team daily, what would be on that page?  What information should you share with various groups in the practice, and can departmental dashboards work together to build to a common goal?  Join an interactive discussion with thought leaders and practice administrators to review sample dashboards from practices around the country.  What do leading practices focus on?  What do CPAs want to see?  What motivates physicians, billing offices, front desk staff, or clinical teams to improve?  How does your daily page of data become a dynamic compass to guide your practice?  Come prepared to discuss successes and frustrations from your practice's efforts to use dashboards to make better decisions.
Carving Up and Drilling Down: Using Microsoft Excel's Pivot Table Feature to Analyze a Practice's Revenue Cycle
Microsoft Excel's Pivot Table feature is a fast and powerful way to analyze and consolidate large amounts of data and quickly extract critical knowledge.  In this webinar, you'll learn how to use Pivot Tables in a medical practice setting to better track collections, analyze reimbursement, collect accounts receivable, and more.  You'll also see a variety of techniques to filter, sort, group, and manipulate practice data.  We'll also discuss several different applications of Pivot Tables throughout a medical practice. The presentation will be a live demonstration using Office 365 for the PC.
Business Intelligence for Revenue Cycle Management
Customized.  Automated.  Fast.  Do these three words describe Business Intelligence in your practice? Are you relying on inflexible canned reports that tell you only part of what really matters in your unique practice, yet the reports are cluttered with lots of extraneous things you don't need to know?  Do you get new data automatically, or do you start from scratch every time you update an existing report?  Does an average BI project for your practice take days, weeks, months, or years? This session will describe and demonstrate BI tools that produce customized reports for medical practices with a specific focus on an expanded view of revenue cycle management from appointments through denials.
Another MGMA Best Seller
The Latest in Business Intelligence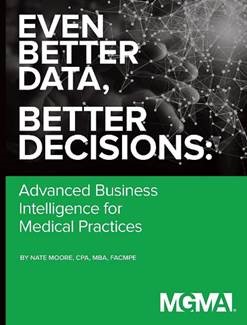 A Vision for Business Intelligence in a Medical Practice.
PivotTables, spreadsheets, dashboards, emails, maps, visualizations, and other tools that drive practice performance, automatically refresh and can be customized by end users without IT support.
Over 500 Excel Videos and Over 2 Million Views
Videos to Start With
People Who Know
What People are Saying…