Your PM and EHR know Far, Far More than they are Telling You.
See Your Practice Differently
How much has your practice changed in the past year?  How much have your practice's reports changed in the past 20 years?  Stop relying on clunky, canned reports and start seeing your data and your practice come to life. 
Business Intelligence
for Medical Practices
Customized
Automated
Fast
With Aloha
Innovative Ideas to Make Your Practice Better
The Latest Podcast
Podcast: Play in new window | Download
Subscribe: RSS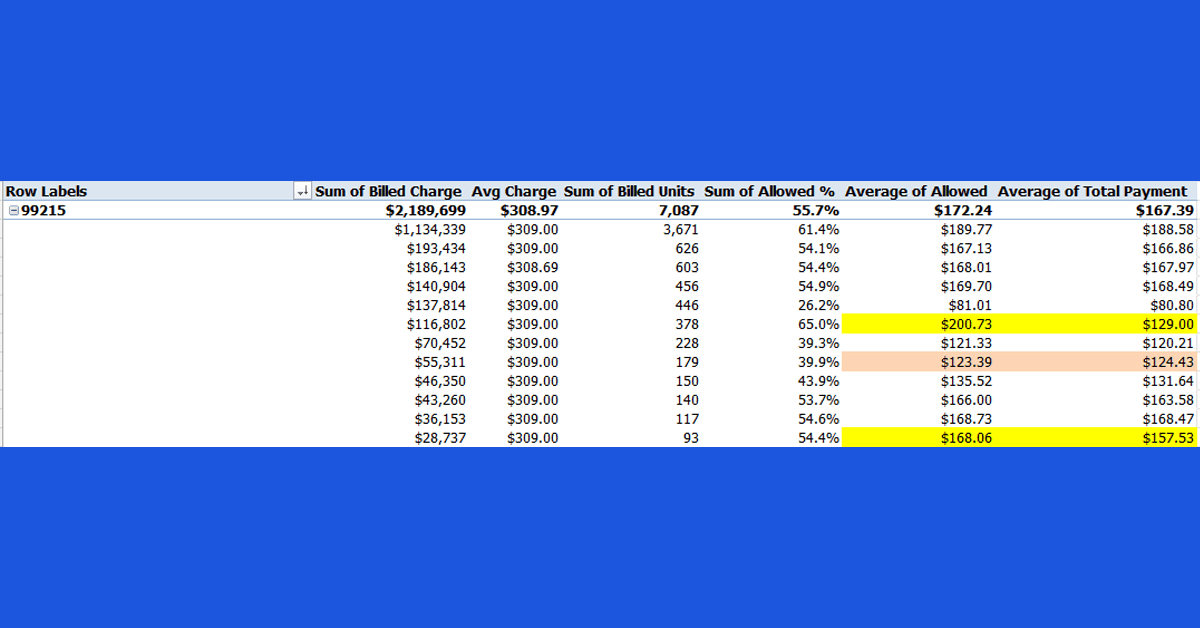 How long has it been since you analyzed your practice's revenue cycle?
Today's BIG Ideas podcast describes several steps I use when analyzing a practice's revenue cycle.  Listen for the data I gather and for a general approach to get started.  The graphic on my web page shows several columns you might build in a Pivot Table analysis.  I start by looking at the major procedure codes for the major payers.  Then I build columns to look at charge dollars, the average charge, the total number of units billed, the allowed percentage, the allowed amount in dollars, and the amount paid in dollars.  There is more information in the podcast, but you would be surprised how often billed charges or allowed amounts are not consistent.  There are also payer contracting insights gleaned from analyzing a revenue cycle using this approach.  Watch for an example in the graphic where the average payment is more than the average allowed amount.  What could be causing this?  
How healthy is your revenue cycle?  Are you sure?  In today's medical practice environment, you cannot be too sure.
Game-changing Business Intelligence
Put Nate to Work…
Automatically Email Critical Data
If you could have a one-page email of practice information delivered daily, what would be on that page?  If you could send a separate one-page email to your physicians weekly, what would you tell them?  Don't rely on team members to remember to run reports, push key practice metrics to them via email.  Send your physicians producitivity reports.  Help the call center fill unsold appointments.  Tell your front desk how they collected copayments yesterday.  Change your practice by changing the way you send data.
Discover Hidden Trends
Where is the next opportunity for your practice to find new patients, act on referral patterns, or capture lost revenue?  How does this month compare with last month and last year?  Why are charges increasing or payments decreasing?   See information your PM/EHR won't show you on canned reports, but will help you run your business.  Empower front line managers, clinical teams, the buisness office, and providers with current data and friendly tools to make better decisions.
Customize Practice Dashboards
Canned reports show too much of what you don't need and not nearly enough of the practice data you do need to see.  Build a dashboard focused exactly on your key performance indicators.  Track RVUs, no shows, collections, new patients, denials or any other metric that will make your practice successful. Build dashboards for each team that support practice objectives and the overall practice dashboard.
Drive Productivity and Performance
When performance is measured, performance improves.  Hold staff, payers, and providers accountable for results with automated tools.  Keep score in your practice, and put the score where everyone can see it.  Track provider wRVUs, lag days, patient wait times, resouce utilization, payments according to contract, advanced practioners, data entry, the number of patients checked in by staff, unsold appointments and much more.  Benchmark your perfomance against leading practices and against your practice history to see results.
One of MGMA's Most Popular Speakers
Invite Nate to Speak About…
Better Decisions: Applications for Medical Practice Managers
How can cab drivers, golfers, and poker players change the way we think about making decisions in medical practices? What processes and tools do we employ when making decisions, and how can those tools both help and hurt us? How does the way a question is framed drive the outcome? How can answering the wrong question get us further away from where we want to be? What does it take to improve strategic discussions in your practice?
Join an interactive conversation with practice managers from across America and discuss how to apply decision making tools to real world challenges in your practice. Daniel Kahneman's Nobel Prize winning ideas will drive much of our discussion. Discover insights like how we frequently avoid risk when we stand to gain but are much more open to risk when a loss is involved. Loss aversion has a variety of applications to medical practices. See how reference points and the endowment effect impact compensation models. Watch how anchors and availability biases impact purchasing and scheduling decisions. Walk away with idea after idea that will change thinking and result in better decisions in your practice.
Carving Up and Drilling Down: Using Microsoft Excel's Pivot Table Feature to Analyze a Practice's Revenue Cycle
Microsoft Excel's Pivot Table feature is a fast and powerful way to analyze and consolidate large amounts of data and quickly extract critical knowledge.  In this webinar, you'll learn how to use Pivot Tables in a medical practice setting to better track collections, analyze reimbursement, collect accounts receivable, and more.  You'll also see a variety of techniques to filter, sort, group, and manipulate practice data.  We'll also discuss several different applications of Pivot Tables throughout a medical practice. The presentation will be a live demonstration using Office 365 for the PC.
Front Loading Your Revenue Cycle: Using Appointment Data to Drive Performance
Your revenue cycle starts long before a patient steps foot into your clinic.  How can scheduling and templating strategies impact your financial performance?  What are smart practice administrators doing now that they were not doing just a few years ago to better manage patient appointments?  Certainly, no show appointments are part of the equation, but what about patient appointments that are never filled?  How are practices prioritizing patient appointments to fill surgery slots or to impact ancillary revenue?  How would your practice be different if you could see this data, easily and automatically?
How much of your revenue cycle can be influenced before a patient even walks through your door?  What proactive actions can practice administrators take to front-load revenue cycle success?  Think of things like reducing no shows, ensuring procedures have pre-authorization, and filling open appointment slots, but there is much more.  Have you considered an appointment scrubber that can data mine upcoming appointments for potential issues such as patients in a collection status, patients with insurance plan issues, patients with scheduling problems, or patients in a global period?
Business Intelligence for Payer Contracting
You have analyzed your contracts, negotiated with the payers, and set new rates.  Your job may look finished, but the fun is just starting!  Short of reviewing every EOB and ERA, how can you ensure that the new rates are loaded correctly and that procedures are paid appropriately?  What are medical practices nationwide doing to confirm that claims are being paid according to contract?  What about multiple procedure discounts, modifiers, different rates for different specialties, and other contracting nuances?  How can I prioritize appeals and track successful appeals?  Join us for an interactive discussion on applying Business Intelligence to payer contracting.
Business Intelligence for Strategic Planning
Where do you want your practice to be in the next 3-5 years? What data do you need to get there? Simply looking at charges, payments, and adjustments like you always have will get you where you have always been. How can you look at your data differently to spot opportunities, trends, and potential threats?
Join an interactive conversation and discuss how seeing your data differently can strategically drive your practice in new directions. See examples from practices across America who are visualizing change with better data. Discover how practices track patients through the practice to determine profitability, monitor utilization, and improve margins. Watch other practices use publicly available insurance contracts to improve financial returns. Find ways to use data you already have to forecast, plan, and act in your unique practice environment.
Now more than ever, business intelligence in strategic planning helps proactive practices see around corners and recognize opportunities and grow and thrive. This session will point the way.
Business Intelligence for Staffing and Productivity
Has the Great Resignation hit your practice this year? Savvy managers are using data tools and new techniques to monitor, trend, and increase productivity in their practices, enabling their practices to be more efficient. This session will provide a unique, innovative approach to learning together. The speaker will give examples of custom dashboards, reports, and spreadsheets that practices nationwide use to measure and improve productivity in their practices. He will facilitate an interactive conversation on the productivity topics and examples the group is most interested in talking about. Attendees will gain insight from top medical group and health system performers to think differently and use proven ideas about managing staff amid challenging times.
Better Decisions: Time Management for Medical Practice Administrators
Are you busier than ever?  Are you spending more and more time managing your practice, but your list just keeps longer?  Would it be nice to work a little less?  Or at least a little more efficiently and effectively?  Are we even asking the right questions?
Join an interactive conversation with medical practice professionals like you to discuss a variety of theories of time management, specifically tailored to the unique challenges in our environment.  We will discuss ideas from multiple viewpoints to discover the combination of techniques, perspectives, and insights to make your life a little easier.  A Harvard professor's research about the tradeoff between time and money, a British writer's productivity traps, and an effectiveness guru's habits each have plenty to contribute to our discussion.  Plan on recommendations about prioritizing, saying no, keeping goalposts from moving, and much more.  You will hear time-tested principles, efficiency hacks, and new ways of thinking about challenges each of us face.  Walk away with fresh ideas, energy, and perspectives to thrive as a practice administrator.
Better Dashboards, Better Decisions
If you could have one page of practice information emailed to you and your team daily, what would be on that page?  What information should you share with various groups in the practice, and can departmental dashboards work together to build to a common goal?  Join an interactive discussion with thought leaders and practice administrators to review sample dashboards from practices around the country.  What do leading practices focus on?  What do CPAs want to see?  What motivates physicians, billing offices, front desk staff, or clinical teams to improve?  How does your daily page of data become a dynamic compass to guide your practice?  Come prepared to discuss successes and frustrations from your practice's efforts to use dashboards to make better decisions.
Things You Don't Know You Don't Know: Customized Business Intelligence for Medical Practices
How much has your practice changed in just the past year?  Seeing charges, payments, and adjustments is interesting, but understanding what is driving charges, payments, and adjustments in your practice is essential.  What metrics are savvy practices reviewing today?  How does the way your practice schedules appointments drive financial results?  Are there better ways to measure productivity, track denials, or chase appeals?  What critical information are you entering into your electronic medical records but struggling to retrieve efficiently?  If practice management reports are weak, typically clinical data is even harder to gather and analyze.  Watch examples of how practices are achieving better outcomes by mining and organizing clinical data.  You will see examples of care management, quality metrics, and medical decision making.
Join an interactive conversation about advanced, customized reporting for medical practices that will change the way you see your practice.  Plan on a discussion with attendees rather than simply listening to a lecture.  Discover what issues your peers are facing and what they report.  Walk away with idea after idea on how to better use data in your practice.
Grit or Quit: Better Decisions for Medical Practice Administrators
Running a medical practice is as hard today as it has ever been.  How do you decide when to buckle down and grit your way through a project?  When do you decide to quit the project and spend your time improving the practice in a different way?
Join an interactive conversation comparing and contrasting ideas on when to buckle down and when to cut your losses.  Books like Angela Duckworth's "Grit" and Ryan Holiday's "The Obstacle is the Way" will drive our discussion about perseverance and tenacity.  Grit and hard work are terrific when you are working on the right project.  Annie Duke's book "Quit" will help us define the right project and distinguish between when to stick with it and when to start something better.  The sooner we decide that it is time to walk away, the sooner we can devote time, energy, and resources to go a different direction.  Defining quitting criteria going into project can help us from staying too committed for too long.  Gritting it out on the right project leads to profound success.
Perspective, action, and will can turn trials into triumph.  Hear examples from peers who can relate to specific challenges in your practice and give you confidence to persevere.  Risks of escalating commitment and sunk costs lead to staying with projects too long.  Learn from peers who can share stories about waiting too long to change course.  This session will give you tools to frame and make better decisions in your practice.
Business Intelligence for Revenue Cycle Management
Customized.  Automated.  Fast.  Do these three words describe Business Intelligence in your practice? Are you relying on inflexible canned reports that tell you only part of what really matters in your unique practice, yet the reports are cluttered with lots of extraneous things you don't need to know?  Do you get new data automatically, or do you start from scratch every time you update an existing report?  Does an average BI project for your practice take days, weeks, months, or years? This session will describe and demonstrate BI tools that produce customized reports for medical practices with a specific focus on an expanded view of revenue cycle management from appointments through denials.
Another MGMA Best Seller
The Latest in Business Intelligence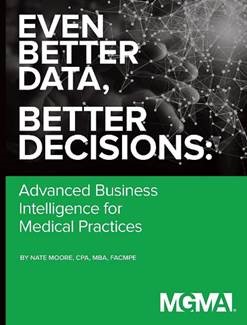 A Vision for Business Intelligence in a Medical Practice.
PivotTables, spreadsheets, dashboards, emails, maps, visualizations, and other tools that drive practice performance, automatically refresh and can be customized by end users without IT support.
Over 500 Excel Videos and Over 2 Million Views
Videos to Start With
People Who Know
What People are Saying…