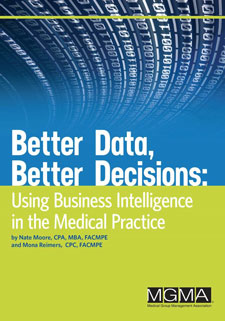 From the Preface to Better Data Better Decisions: Using Business Intelligence in a Medical Practice by Nate Moore and Mona Reimers
This book is the medical practice manager's data reporting manual. Like most of you, we have been medical practice administrators for many years.  We were repeatedly frustrated with the inability to efficiently get data out of our practice management systems in a format that mere mortals could really use with our shrinking budgets. We hope you will read this book and change the ways you gather and look at your data. This book is not about what to report or even what is important for your practice. It is about how to obtain the data (even those "unreportable data fields" your vendors tell you are not available) and what will now be an endless number of ways to look at your data. You will be delighted to know that gathering this data is also relatively inexpensive!
About two years ago, Nate Moore started consulting at Orthopaedics NorthEast, P.C. (ONE), where Mona Reimers is the current director of revenue services.  What started as a rather short-term education and data mining project limited to a single department at ONE quickly became an instant companywide success. And almost from day one, we knew we had something other practices should have.
Medical practice managers at all levels can benefit from a greater understanding of the data management tools available. In fact, many of these tools are already present in your computer systems. We have included many examples in this book to spark your imagination. You are welcome to use any of them as we designed them. We encourage you to go forward, think bigger, and then share your success with us.
Many times throughout the book, we tell you to have fun! There is something very enjoyable about finding a shortcut you did not know about or a gadget that keeps you from making a mistake. We hope that after reading this book and sharing it with your practice you find it as exciting and gratifying as we did. So read on and have fun!
Elizabeth Woodcock
Quite simply, this book will change the way you think about data, how to capture it and how to analyze it.  I rarely see a book that I  can legitimately call a "game changer," but this is certainly one of them…  Read it; treasure it.
Elizabeth Woodcock, MBA, FACMPE, CPC, speaker and author, Woodcock & Associates
Frank Cohen
Nate and Mona have managed to bring to the forefront an entire toolbox filled with not just any tools, but specifically the tools that we need to move analytics from the drawing board to the board room.  If you have any intentions of involving yourself or your organization in the area of business intelligence, this book is a must read.
Frank Cohen, senior analyst, The Frank Cohen Group, LLC
Greg Feltenberger
This book is an excellent resource that will provide you with the tools you need to request the right data in the right format so you can make the right evidence-based decisions.  This belongs on your go-to book shelf.
Gregory S. Feltenberger, Lt. Col., USAF, MSC, PhD, FACMPE, FAHCE, commander, 10th Medical Support Squadron, U.S. Air Force Academy